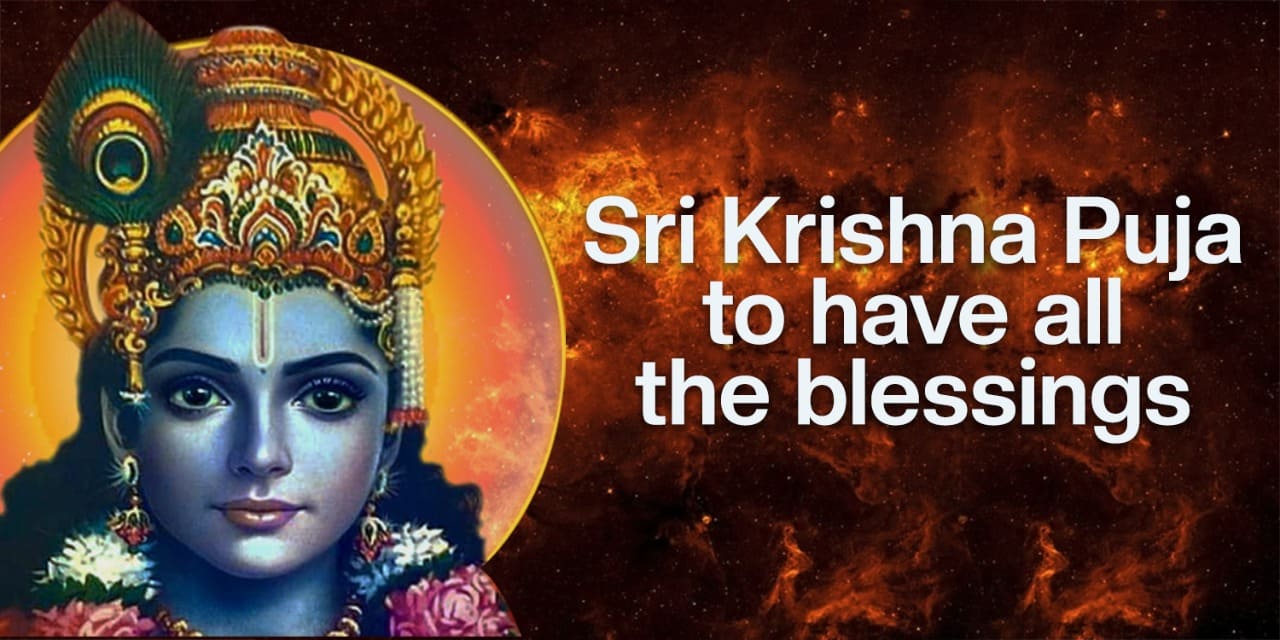 Our life will be filled with all the blessings by making conscious offerings to Lord Krishna, the protector of the universe and the guardian of Dharma. Not only the offerings that we have to make in the temples but also some of the rituals that we can do at home are very pleasing to the Lord. The most important thing is that, whatever you do, do it with complete devotion.
By worshipping Lord Krishna, you can achieve success in life and victory over enemies. He is an almighty deity capable of bestowing wealth and all riches and giving peace of mind and happiness. But it is not good to make sacrifices only for selfish gain and to live a life of blasphemy.
Some Krishna pujas that can be done at home
The first thing to do is to purify the mind and body, whether it is home worship or temple offerings. Before performing Krishna Puja, one should first purify their body and put some sandalwood paste on the forehead. Spread a white cloth on a clean table or pedestal and place the idol of Krishna on it. Arrange water, saffron, sandalwood powder, incense, Aarti lamp and flowers for sprinkling. Take fruits and flowers in a bowl. Keep a ghee lamp or sesame oil lamp. When everything is ready, take a spoon in your left hand and pour some water into your right hand and drink it three times saying 'Om Achuthaya Nama', 'Om Anantaya Nama' and 'Om Govindaya Nama'. Then apply water on both hands and pat dry. Offer milk, ghee, flowers and water to the idol of Krishna by reciting the Brahma Samhita and other mantras and hymns. After the anointing, dry the idol and place food, flowers, water and ghee near the idol. Apply sandalwood to the idol of Lord Krishna. Light the lamp with the prayer 'Shubham Karoti Kalyanam'. Say 'Guru Brahma Guru Vishnu'. Then, chant any Krishna bhajan you like and offer the sandalwood candle seven times in a clockwise direction. Put a little saffron on Lord Krishna's feet and then touch the tilak on your forehead. Then distribute Prasada saffron to the devotees around you. You can use fruits, water, offerings, flowers and rice as Prasada after a while. Or they can be deposited in running water or donated to others. After the pooja, chant 'Hare Krishna' or 'Om Namo Bhagavathe Vasudevaya'.
Worshipping Lord Krishna protects you from evil spirits. This reduces the side effects of Ketu. Worshipping Lord Krishna is perfect for marital happiness and all kinds of spiritual and material development.
Some of the Krishna pujas that can be performed during the temple visit are pleasing to the Lord
The offering of basil leaves is one of the most pleasing to Lord Krishna. Offerings include pal payasam, butter, avil, and kadhalippazham. Each offering thus made has its benefits. Palpayasam for grain augmentation, avil nivedyam for poverty alleviation, venna nivedyam for intellect and knowledge, ghee lamp for eye healing and Ashtasiddhi, kadhalippazham offering for jnanalabdhi, manjappattu charthal for success and bhagyasuktarchana for good luck and prosperity.
The main benefits of Sri Krishna Puja
Lord Krishna is the eighth incarnation of Lord Vishnu. He is one of the most famous deities in Hinduism. Worshipping Lord Krishna, the protector and guardian of Dharma of this universe will bring all the blessings into our lives. Importantly the following are some of the benefits of krishna puja;
1. Peace of mind, happiness and contentment are paramount in life. Sri Krishna Puja is the best way to bring all these above-said blessings into life.
2. Sri Krishna Pooja can improve the quality of our life and bring prosperity in the field of employment and trade.
3. Lord Krishna will give relief to those who are suffering from various diseases, especially those who are suffering from chronic serious diseases.
4. Lord Krishna is the deity who can save us from all the evil forces and enemies.
5. Worshipping Lord Krishna is the best way to resolve marital discord and maintain happiness throughout life.
6. Sri Krishna Puja will help childless couples to have children and will give relief to those who are worried about their children.
7. Students can pray to Lord Krishna to remove the barriers in learning and to gain more wisdom. He will give guide you in the best direction.
8. Lord Krishna will always be there as a guide for those who are facing struggles and barriers in life.
9. Sri Krishna Puja is highly desirable to eliminate the ill effects of Ketu and to fill life with all the blessings.
Lord Krishna is a powerful deity who helps us to face the problems that we have to face in life with confidence. Submit our prayers and desires to the Lord with devotion and complete surrender, and he will surely make it possible.